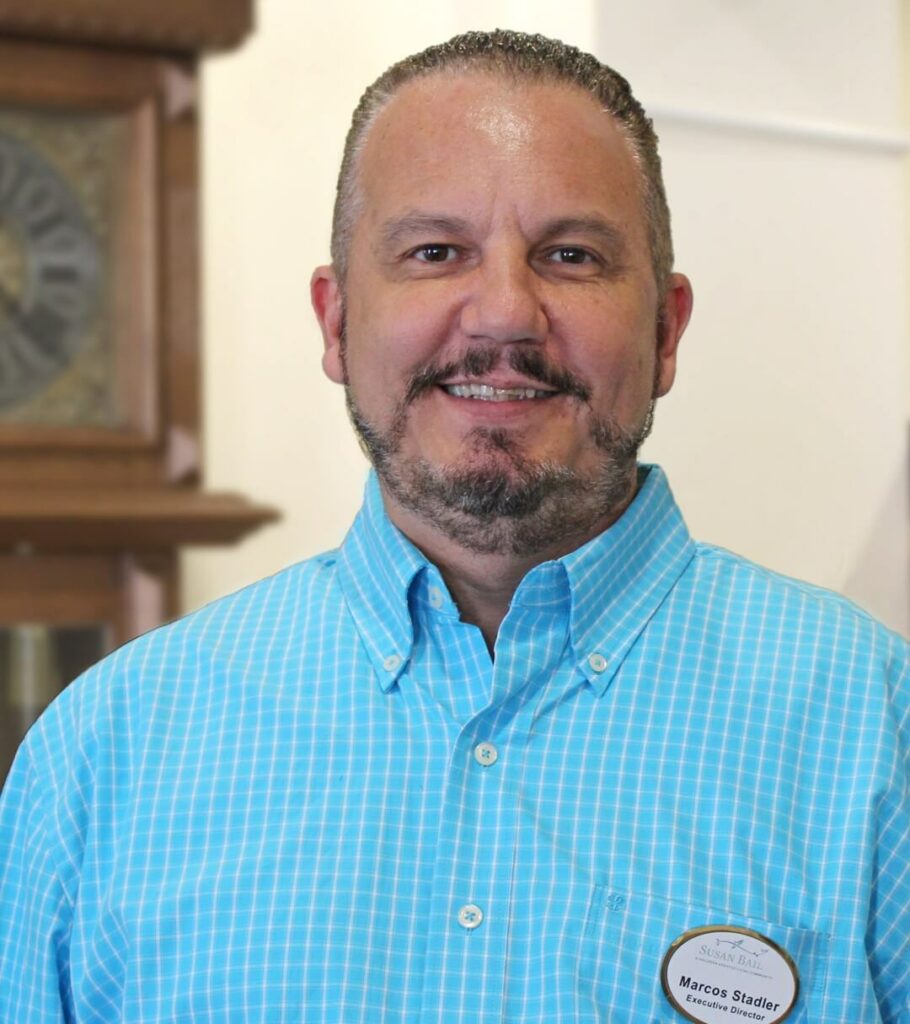 Marcos Stadler, Executive Director
Marcos has a Liberal Arts degree in Healthcare Administration and a background in healthcare operations with the knowledge of local, state, and federal regulations.
Marcos has been working in assisted living and skilled nursing since 1992, helping to make a difference in the lives of senior citizens, their families, and friends. His priority is to ensure all residents are happy and proud of living in our community.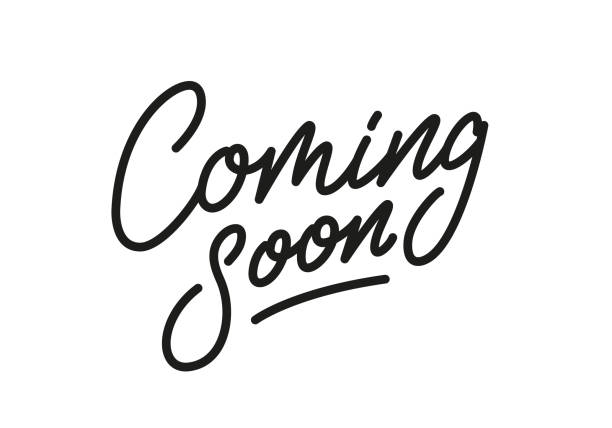 Julie Morin, Assistant Executive Director
Julie brings approximately 30 years of experience in healthcare, with 20 years of management and operational leadership experience to Susan Bailis. She has extensive experience working for both, the for-profit and non-profit sector. She has a proven track record of successfully operating, creating and executing operational standards for multiple diverse organizations, with extensive experience in long term care, memory care, geriatric care and residential services. Her goal is to ensure that she is making a positive impact in the lives of the residents within the Susan Bailis community.
She is a mother to three beautiful daughters, is family oriented and often spends most of her time with her family. She takes pleasure in spending time outdoors, from relishing the beautiful beaches of Maine along with the beautiful views of the White Mountains of New Hampshire.
Jane Petigny, Resident Care Director
Jane has been a nurse for over twenty years. She has worked in many fields in nursing, but the one she enjoys most is caring for the elderly. The ability to interact with, care for, and assist residents to maintain their happiness, independence and dignity, is a unique experience that can only be had in an assisted living community.  
Jane is the mother of two beautiful daughters. Jane enjoys traveling. Going on a "cousins' trip" every year with her brother, sister and ten of her "closest" cousins or just hanging out and watching movies with her girls when they are home from college. She loves dancing with "her residents" most of all. With her hands on, caring and gentle approach, Jane hopes to enhance the lives of the residents of Susan Bailis.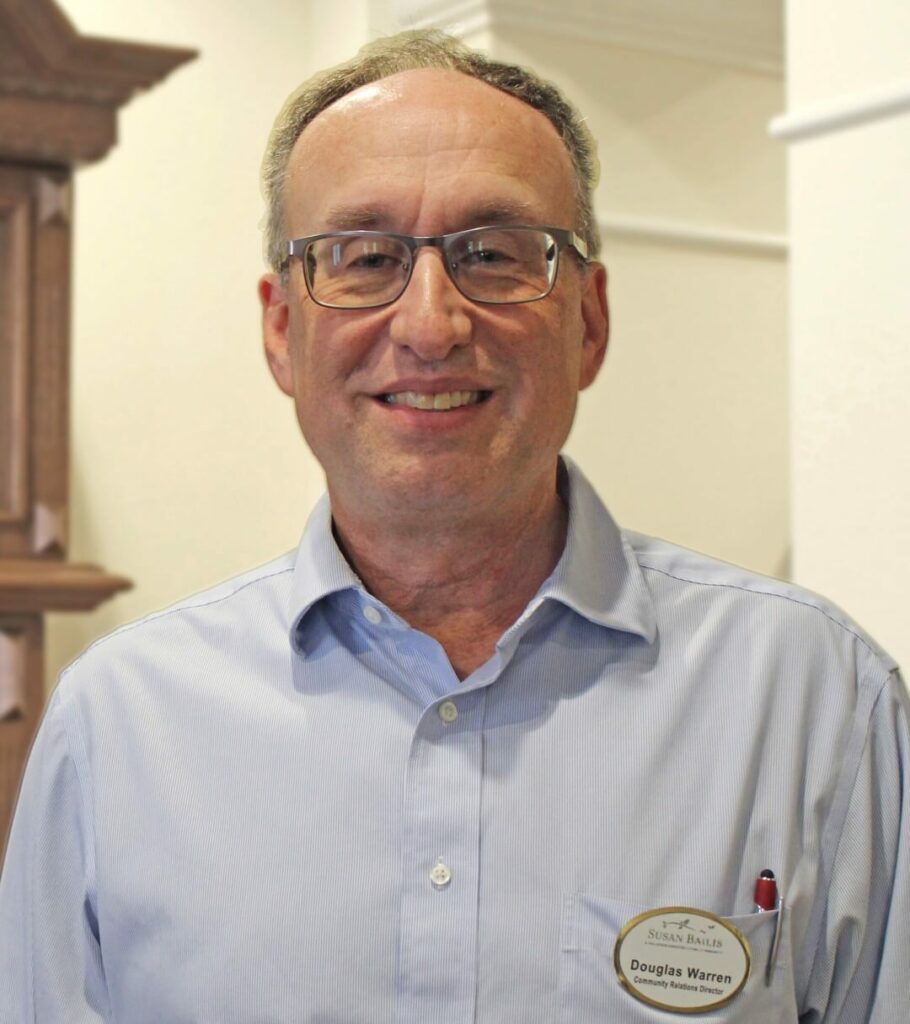 Doug Warren, Marketing & Community Relations Director
Serving the assisted living industry since 2003, Doug brings a lifetime passion for hospitality, customer service and helping others to the Susan Bailis mission.  He joined our team in September of 2015 with a wealth of experience gained with established assisted living communities on the north shore, as well as with the successful openings of several new assisted living communities in the metropolitan Boston area.
Doug found his professional calling while helping his family research and select the perfect assisted living community for his grandmother. He holds an MBA degree and, prior to transitioning into the assisted living field, spent more than 15 years in marketing and advertising. He also comes with a strong background in consumer behavior and psychology.
Born in Massachusetts, he spent many years in California and currently resides north of Boston.  He enjoys sports and as testimony to his love for traveling, he has visited 49 of our 50 states. Alaska is last on his list.
Waagda Louis, Activities Director
Waagda Louis was born in Haiti, she migrated to the United States during her adolescent years. She is proud to call Boston her Home. She values honesty and respect.  She holds a bachelor of arts in Community Health with a focus on psychology. She attended Pine Manor College; a small private school that allowed her to harvest skills such as leadership.

Her interest in preventive healthcare introduced her to assisted living where she spends her time bringing Happiness to others. Outside of her career, she occupies herself with hobbies such as creating art. She enjoys trying various cuisines and spending time with her cat. 
Norris Derby, Maintenance Director
Susan Bailis is renowned for delivering on their promise of providing a "better life and peace of mind" derived primarily from staff that provide "exceptional personalized services". Since its inception over 15 years ago, this facility has been synonymous with wowing our residents and their families with the amazing warmth and charm of the Susan Bailis community. Another hallmark of this community is having a tradition of providing a welcoming, relaxing, modern, safe and efficiently running facility so that our residents, their family and our staff feel right at home on our premises.
With all the foregoing attributes, it is no surprise that our Maintenance Director Norris is a perfect fit for Susan Bailis. Norris embodies all these fine characteristics and more and he enthusiastically displays these as he undertakes his functions in ensuring our property is safe and functional for all concerned. 
Norris is affectionately called 'Macgyver by his childhood friends in reference to the 1980's television series due to his innate ability to repair anything mechanical. He approaches his duties as Maintenance Director with the same technical assurance, quietly confident, amazingly polite and always quick to offer a heart warming smile. 
He brings an excess of 12 years of maintenance experience to Susan Bailis and proactively provides the highest level of service to the community. Norris migrated to the U.S. in 2015 from his native Jamaica after graduating from the prestigious Kingston College and undertaking graduate studies at the University of the West Indies School of Continuing Studies. 
He has held a number of management positions with different companies in Jamaica including Novelty Trading Company and Dryclean (USA) Jamaica where his last position was Manager of Plant Operations and Maintenance prior to transitioning to the U.S. Since moving to the States, Norris has worked with the Elderly at Waterstone in Wellesley and Providence House in Brighton. 
Away from work, Norris enjoys spending time with his family, watching movies, fishing, traveling and working on automobiles. 
Hieu Huynh, Business Assistant
Hello, my name is Hieu Huynh, I'm a sports enthusiast hailing from the beautiful country of Vietnam. With a passion for soccer, I can often find myself on the field, showcasing my skills and love for the game. When I'm not scoring goals, I sometimes enjoys sipping on delicious milk tea, a delightful treat that fuels my adventures.
I'm also an alumnus of Fitchburg State University, where I honed my academic and personal skills. With a zest for life and a thirst for knowledge, I will always be ready to kickstart new challenges and explore what the world has to offer.
Doris Bourque, Food Service Director
Doris has an extensive history of working in food services, with over 20 years of experience working with the elderly. She has worked for HallKeen for the past 7 years. Starting out as a part time receptionist and working her way into the food service department. She briefly retired while often coming out of retirement to continue to support numerous HallKeen facilities. She soon realized that she missed working and returned full time as the Food Service Director at Susan Bailis.
She has been married for 30 years and enjoys traveling with her family. She grew up in Massachusetts with her family residing in the surrounding towns. Doris has a passion for cooking and baking. You can often find her baking with her grandchildren in her free time. Her goal is to create a positive atmosphere for the residents and her staff. She also hopes to bring in some of her creative ideas to help influence and create memorable dining experiences for all residents.